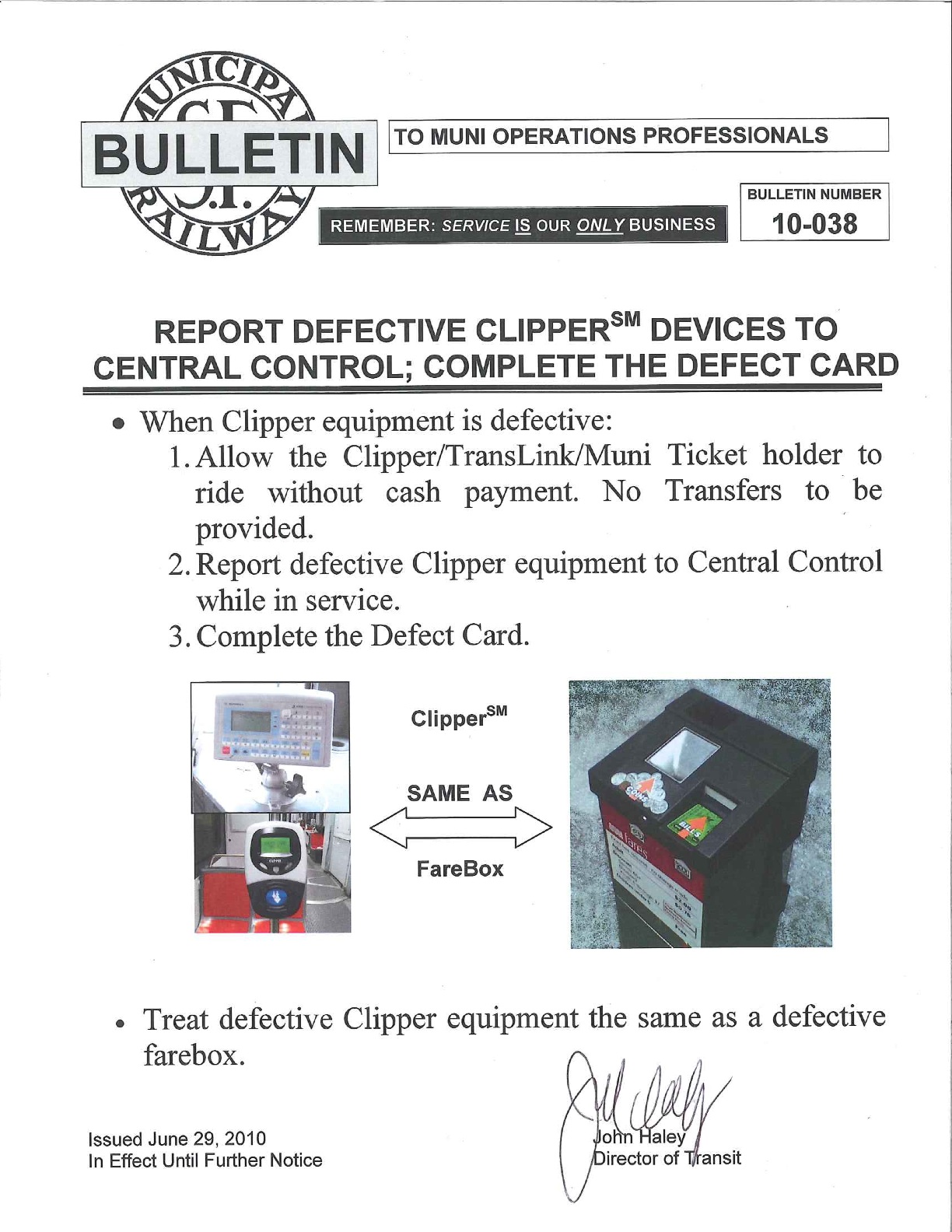 Oh joy, oh joy! Earlier this morning, Muni Diaries addressed a peculiar problem with the Clipper program:
What should a passenger do when the reader is non-functioning?
SFMTA got back to them and here's their answer:
Free rides for passengers if it's broken.
Muni operators are required to report problems to central control and treat it just the same as if a cash farebox was broken/malfunctioning.
Gees... this sounds so familiar. Muni published the bulletin on June 29th, but I
addressed the issue on APRIL 8TH
! What took you so long, Muni?
I suggest printing a copy of the bulletin and carrying it with you if a Muni operator hassles you.
But while passengers will get a free ride on Muni, this doesn't address the fare inspectors who carry their portable card readers. The card readers they carry is to verify if the passenger tagged his/her card on the vehicle card reader; but since the reader was broken on the vehicle,
how should the passenger handle the situation if encountering a fare inspector?
There are two unique situations when experiencing a broken vehicle card reader and encountering an inspector:
If the cardholder is an e-cash customer, the fare inspector's card reader will say "NO" for not tagging card to pay fare. Depending if the fare inspector understands the problem, it is possible a $75 ticket for fare evasion may be charged.
If the cardholder has a valid pass or transfer, but could not tag card due to a broken vehicle reader, I'm not sure what the response will be on the inspector's card reader. Some people who have a valid Muni pass but the reader is broken on the vehicle have been allegedly hassled by fare inspectors for "failure to tag."

(Muni bulletin from Muni Diaries
)